Cagayan de Oro Council P5.5-Billion Budget Approved for 2018
The City Council had approved on Monday a P5.5-billion budget, slashing some P300 million from the
P5.8 billion originally proposed
by Mayor Oscar Moreno. Vice Mayor Joaquin Uy said the slashed amount is supposedly for "less priority" programs. But Gan, who was absent during Monday's session called the budget a "big joke."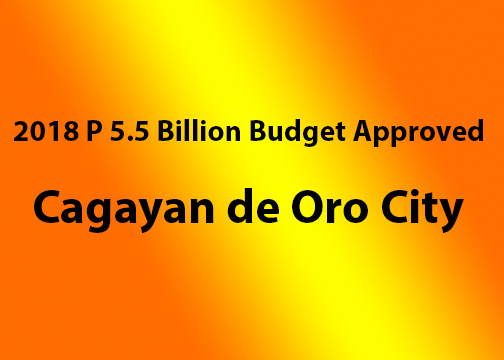 "Our income is not enough, last year we our actual income is only about P3.2 billion," he said.
Gan said the City could impose higher taxes or priority projects would not be implemented for the lack of revenues. Either way, he said Kagay-anon may suffer in the end. But Councilor Teodulfo Lao Jr., said last year's actual income is at P4.6 billion, saying that the P5.5 billion approved budget is "just alright."
Those who voted for the approval were councilors Lao, Edna Dahino, Reuben Daba, Ian Mark Nacaya, George Goking, Ma. Lourdes Gaane, Romeo Calizo, Jay Pascual, Suzzette Magtajas-Daba,
Zaldy Ocon
, and Annie Daba. Councilors Lordan Suan and Dometilo Acenas abstained from voting. Councilors Gan, Nadya Emano-Lipe, Yan Lam Lim, and Enrico Salcedo were absent.
Comments
comments