Cagayan de Oro 50 Ultramarathon
The race is open to the public. There is a minimum pre-qualification criterion to participate; must be a finisher of at least 2 half-marathon distance or 1 full marathon distance. Avid ultra marathon runners are welcome to participate. The CDO50 event will comprise of running in the dark. Headlamp/flashlight/torch and blinkers are MANDATORY. This is a no frills and runner-centric event. Runners must run with their own hydration system and nutrition (comfort food).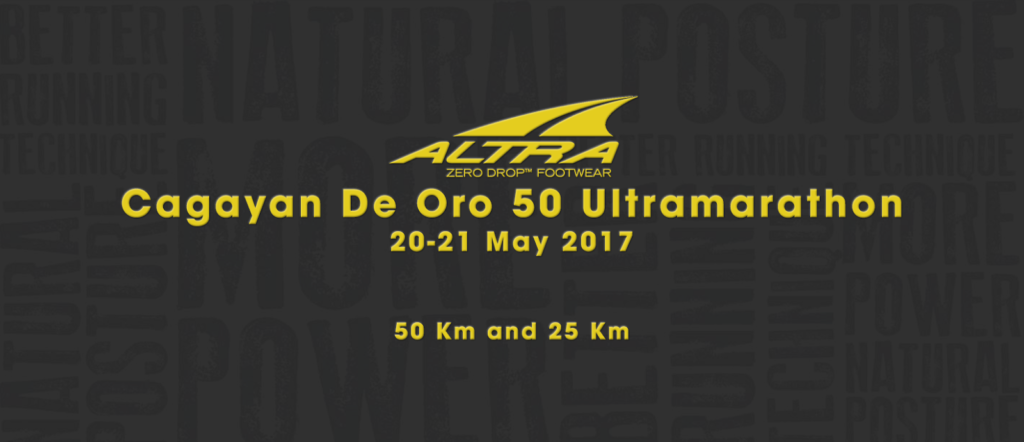 Attention 25 Km runners, this is a hybrid 25 Km wherein you will be immersed in an ultramarathon environment; i) Aid Stations are further placed apart, ii) You will have to carry your own hydration system. There are no plastic cups provided at each aid stations. iii) Be aware of your surroundings as this is a night run. Situational awareness is a must. iv) Warm-ups are done on your own. No one will ask you to do warm ups nor Zumba like warm up prior to flag-off. This is not a typical fun run per se.
There will be marshals patrolling the run course and First Aid "Responders" at every aid stations. Police and Brgy Tanods will be present as well.
AWARDS:
1) TOP 3 PODIUM Plaque (Men's & Women's) 25 KM and 50 KM
2) TOP 3 AGE GROUP RECOGNITION.
Medal (Men's & Women's) NO TROPHIES OR PLAQUES FOR AG.
Age Group: 19-Below, 20-29, 30-39, 40-49, 50-59, 60-Above
3) BIGGEST TEAM DELEGATION PLAQUE
RUNNER'S ENTITLEMENT
Finisher's Shirt
Finisher's Medal 2.5″ Solid Brass
Post Race Meal
Lucky Draw from supporting brands – Altra, Feetures!, OS1st, etc
Finisher's Medal and Finisher's T-Shirt are applicable only to runners who finished the race within the given cut-off time.
For registration visit the link Cagayan de Oro 50 Ultramarathon
Comments
comments