112 State Universities and Colleges That May Give Free Tuition Including Universities In Northern Mindanao
Who is qualified for the full tuition subsidy?
Filipino students currently enrolled or will enroll in State Universities and Colleges can get the full tuition subsidy upon meeting the admission requirements of the state university or college.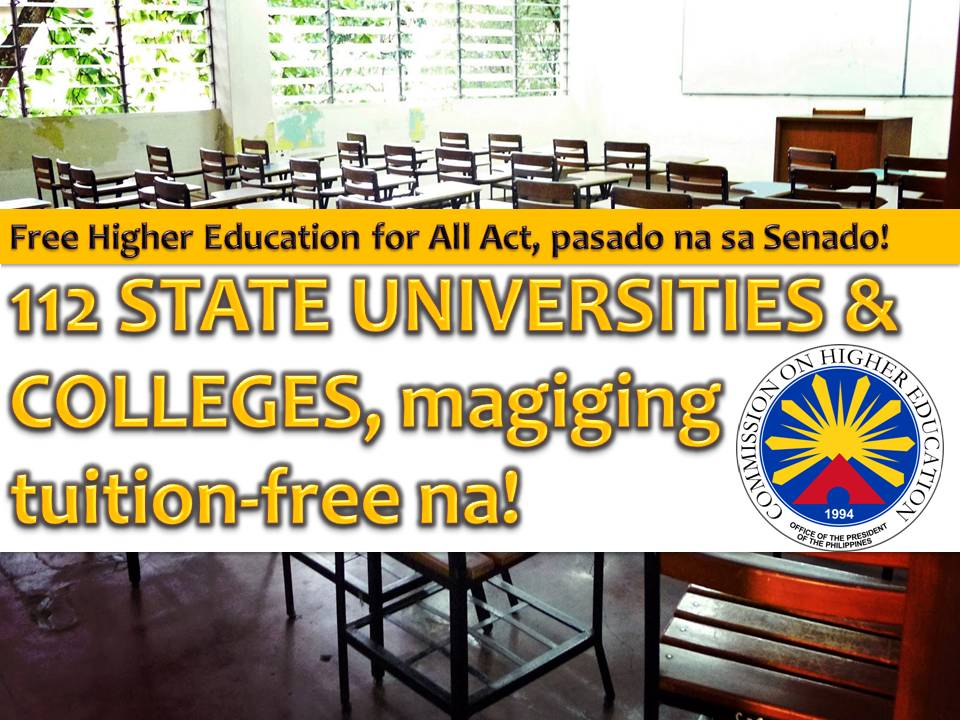 For students "with the financial capacity to pay for their education in the SUC," the Senate bill mandates the state university or college to create a mechanism that will enable these students to "opt out of the tuition subsidy or to make a donation to the school."
The bill also specified which students are not eligible to avail the subsidy: those who already attained a bachelor's degree or any equivalent degree in any HEI, and those who have been "dishonorably discharged from any HEI… for any reason other than financial difficulty in paying tuition and other fees.
The Senate Bill 1304 or the Free Higher Education for All Act seeks to institutionalize a tuition-free policy in the country's 112 SUCs was passed on Senate last March 13 with 18 affirmative votes.
Check the list of State Universities and Colleges who will give free tuition
Abra State Institute of Science and Technology
Adiong Memorial Polytechnic State College
Agusan Del Sur State College of Agriculture and Technology
Aklan State University
Apayao State College
Aurora State College of Technology
Basilan State College
Bataan Peninsula State University
Batanes State College
Batangas State University
Benguet State University
Bicol State College of Applied Sciences and Technology
Bicol University
Bohol Island State University
Bukidnon State University
Bulacan Agricultural State College
Bulacan State University
Cagayan State University
Camarines Norte State College
Camarines Sur Polytechnic College
Camiguin Polytechnic State College
Capiz State University
Caraga State University
Carlos Hilado Memorial State College
Catanduanes State University
Cavite State University
Cebu Normal University
Cebu Technological University
Central Bicol State University of Agriculture
Central Luzon State University
Central Mindanao University
Central Philippines State University
Compostela Valley State College
Cotabato City State Polytechnic College
Cotabato Foundation College of Science and Technology
Davao Del Norte State College
Davao Oriental State College of Science and Technology
Don Honorio Ventura Technological State University
Don Mariano Marcos Memorial State University
Dr. Emilio B. Espinosa, Sr. Memorial State College of Agriculture and Technology
Eastern Samar State University
Eastern Visayas State University
Eulogio "Amang" Rodriguez Institute of Science and Technology
Guimaras State College
Ifugao State University
Ilocos Sur Polytechnic State College
Iloilo Science and Technology University
Iloilo State College of Fisheries
Isabela State University
J.H. Cerilles State College
Jose Rizal Memorial State University
Kalinga State University
Laguna State Polytechnic University
Leyte Normal University
Mariano Marcos State University
Marikina Polytechnic College
Marinduque State College
Mindanao State University
Mindanao University of Science And Technology
Mindoro State College of Agriculture and Technology
Misamis Oriental State College of Agriculture and Technology
Mountain Province State Polytechnic College
Naval State University
Negros Oriental State University
North Luzon Philippines State College
Northern Iloilo Polytechnic State College
Northern Negros State College of Science and Technology
Northwest Samar State University
Northwestern Mindanao State College of Science and Technology
Nueva Ecija University of Science and Technology
Nueva Vizcaya State University
Occidental Mindoro State College
Palawan State University
Palompon Institute of Technology
Pampanga State Agricultural University
Pangasinan State University
Partido State University
Philippine Merchant Marine Academy
Philippine Normal University
Philippine State College of Aeronautics
Polytechnic University of the Philippines
Quirino State University
Ramon Magsaysay Technological University
Rizal Technological University
Romblon State University
Samar State University
Siquijor State College
Sorsogon State College
Southern Leyte State University
Southern Luzon State University
Southern Philippines Agri-Business And Marine and Aquatic School of Technology
Sultan Kudarat State University
Sulu State College
Surigao Del Sur State University
Surigao State College of Technology
Tarlac Agricultural University
Tarlac State University
Tawi-Tawi Regional Agricultural College
Technological University of the Philippines
University of Antique
University of Eastern Philippines
University of Northern Philippines
University of Rizal System
University of Southeastern Philippines
University of Southern Mindanao
University of the Philippines System
Visayas State University
West Visayas State University
Western Mindanao State University
Western Philippines University
Zamboanga City State Polytechnic College
Zamboanga State College of Marine Sciences and Technology
Comments
comments